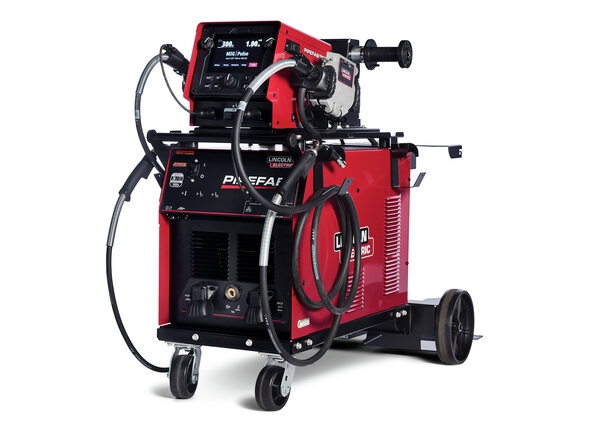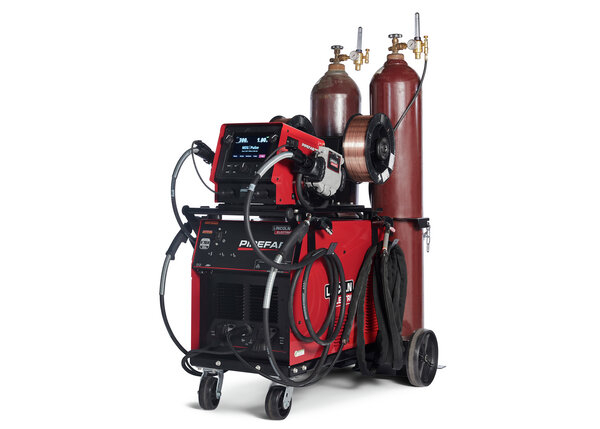 From concept to reality, the PIPEFAB™ welding system was developed for one purpose – to deliver the ideal setup for pipe and vessel fabrication. From machine design to arc performance, no detail was overlooked in delivering a complete, customer-driven system that lets your shop focus on what matters most – making high-quality root-to-cap welds, faster and easier.
Features
Powered by proprietary Cable View™ Technology, the PIPEFAB™ system continually monitors cable inductance and adjusts the waveform to maintain consistent arc performance with long or coiled cable runs.
Breakthrough arc performance from root, to cap, to final fit.
Digital navigation for unmatched simplicity.
Customer-driven design for Pipe & Vessel Fabrication.
Backed by unrivaled customer support.
What's Included
PIPEFAB™ Power Source
PIPEFAB™ Feeder
PIPEFAB™ Cart & Dual Bottle Rack
Magnum® PRO Curve™ 200 15FT Ready-Pak
Magnum® PRO Curve™ 300 15FT Ready-Pak
Magnum® PRO .035" & .045" Tapered Contact Tip (Qty 1 ea)
Magnum® PRO 3/8" Tapered-Flush & 1/2" Flush Nozzles (Qty 1 ea)
.035"/.045" V Groove Drive Roll Kits (4 Roll Kit - Qty 2)
.045" Knurled Drive Roll Kit (4 Roll Kit)
Harris® Flowmeter & Hoses
Brass Inlet Gas Y Fitting
15FT 2/0 Work Lead & GC500 Clamp
PIPEFAB™ Feeder Screen Protector (optional use)
Service Information
Documentation
Basic Specification
| | |
| --- | --- |
| Input Hertz | 50 / 60 |
| Input Phase | 3 |
Application
Typical Application
Piping
Pressure Vessels
Process Piping